My day to present at the Hawaii International Conference went ok. Here's the room I presented in:

That's about how empty I expected it to be since I was presenting at 9:40am on Saturday in Waikiki, but I actually had three people show up to hear what I had to say! That's seriously a decent turn out according to what I saw at other sessions I attended. Everything went fairly well, my attendees asked good questions and we all had a good time.
I think I need one of these for the house:

I went to the Rainbow Drive-In for lunch based on some stuff I had read online: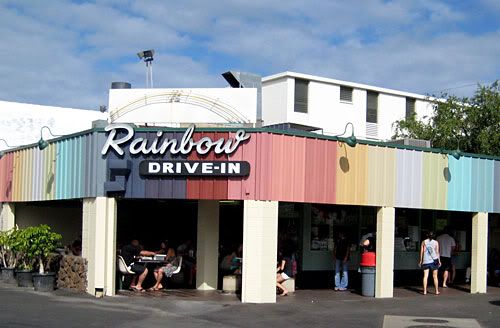 Ordered the beef cutlet plate lunch:


Fantastic! One of the best meals I've had here so far.
Waiola Bakery & Shave Ice was just a block or so away, so I had to check it out:

I'm not a big snowcone fan…the crunchy ice and the way the syrup just slides to the bottom leaving you with plain ice to eat and a puddle of syrup is not fun for me. But I'd heard good things about shave ice in general and Waiola's specifically. I ordered lilikoi (passion fruit) syrup and condensed milk topping:


Just amazing! The shave ice has the consistency of fine, soft, powdery snow. No crunchy ice crystals, just smooth, cold goodness. And the syrup holds tight to it. The condensed milk was a great topper. Here's a cross-section part way through my devouring of it:

Duke Kahanamoku Statue, Waikiki:

Obama in Hawaii bobble head:

Saw some crazy street breakdancers too: