Today was one of the few actual free days that I'll have while here in Hawaii, so I tried to take advantage of it. I woke up at about 6:45am and it's now 11:30pm and I've pretty much been going non-stop. I feel like I'm about to fall over, but I think I managed to knock out any jet lag I might have had. I'm pretty well adjusted to Hawaii time now, but re-adjusting to Texas time is going to be HORRIBLE. I'm going to post a bunch of pics with a few words and then go to bed. Tomorrow is the first day of the conference and I'm meeting one of the University of Hawaii professors in the afternoon. Another busy day, but probably less pictures.
I started by heading out to Hanauma Bay Nature Preserve. Click the link and read about it.

That's me:

Those dark spots are not seaweed or anything like that…it's all coral in near crystal clear water:

I bought a cheap underwater camera and went snorkeling with the fishes. First time I've been snorkeling (I think)…it was a little bit weird at first, and I had a few freak out moments, but it was worth it for the amazing experience. Here are some of the better photos…of course, with the camera, none are all that great: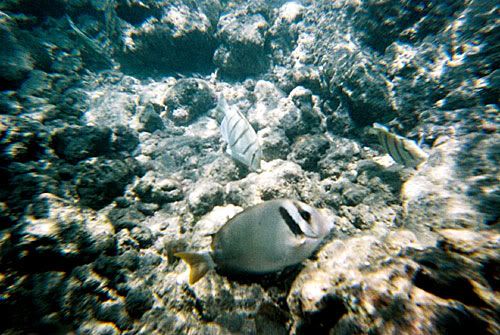 On my last trip over one of the coral reefs, I had two crazy encounters…I was face to face with a nasty looking eel or sea snake that did not look happy to see me. I got the heck out of there quickly…no picture! Then just a few minutes later I ran into this pufferfish/blowfish looking guy with lots of spikes. I took a picture and then moved along to not have him poke me: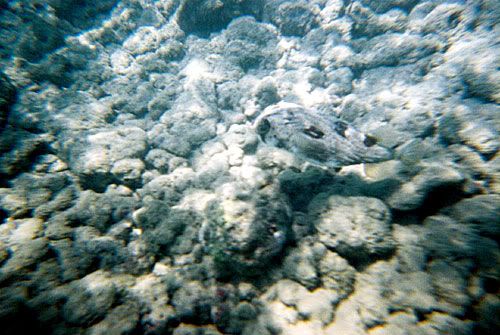 Here's proof that I didn't just steal someone's pictures: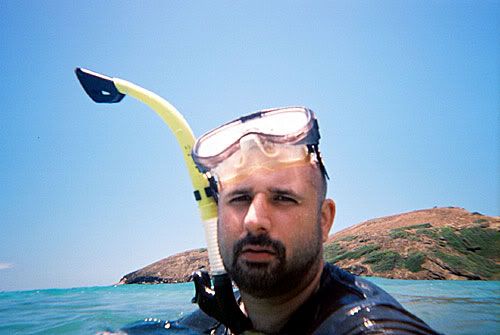 A shot of the Bay and I think that's Diamond Koko Head in the distance as seen from the water:

Lunch at Wailana Coffee House…Moco Loco!

Yes, McDonald's serves egg, rice, and Spam meals for breakfast!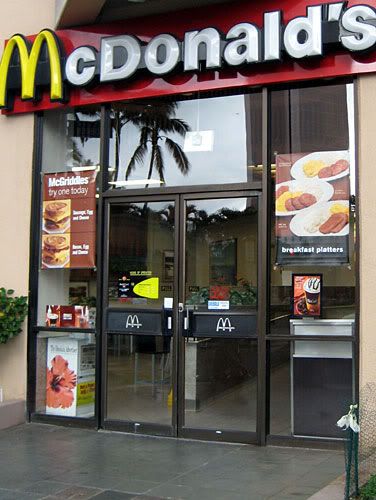 I arrived in Honolulu just in time to see them constructing a new rainbow!

Had to hit up a comic book shop while here:

President Obama ate here…I was still full from the Loco Moco or I might have tried it.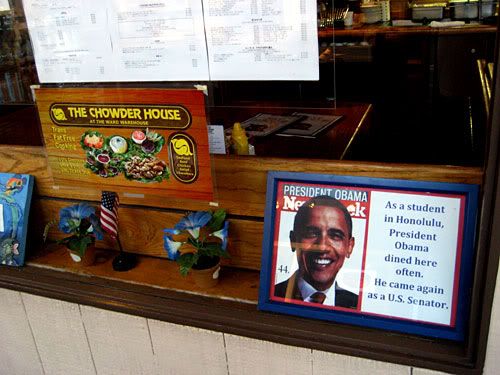 Dinner was L&L Hawaiian Barbecue:

Spam musubi, saimin noodles, and a root beer: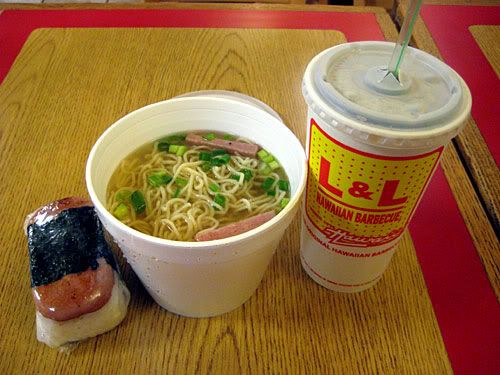 The saimin noodles were ok but a little bland. The Spam musubi was quite good though. The large amount of rice was enough to cut the typical saltiness of the Spam and the sauce was a little sweet. Very good. Here's a second pic just for awesomeness!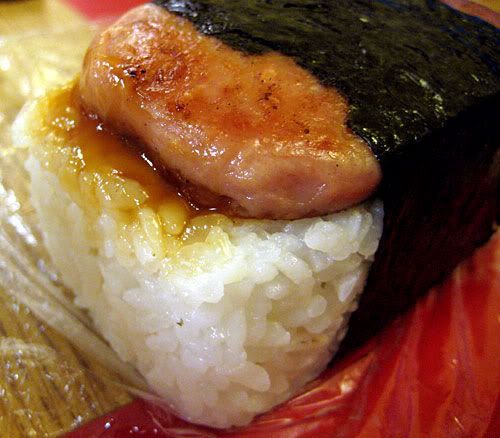 Ran into a couple of places today that I'll have to hit before I leave, but I can't talk about them just yet…
Sleep now…